When I signed a contract for this show with Richmond Virginia Art Works early 2009 to be at the main gallery October 18- November 21 2010, I had a much different collection in mind. It was a happy one, so of course it was different.
On July 12, 2009, it changed completely when my first born son was shot. Here somehow I mirror some of my emotions. Disbelief, pain, anger …all of them.
Our life was cut short; a prosperous and humble man was no more. I now introduce him to you all so he will live on with everyone he touched by his life and his departure from it.
Art has been with me since I was born. It is a reflection of my life; my creations tell the history of a regular man with a purpose,thankful for existing, favored and grateful to be myself.
The poor person is not the one who is out of money, It is the Dependent.
The people are fed up with social engineering scheme; we want a prosperous country like the one I came and open her arms to us.
It is known that in Florida there are warnings that read "Do not look intensely at anyone
because if that person feels threatened and carries a legal gun, they can kill you and it will be justifiable by the law."
My show is dedicated to my son, and to modifies this law.
"Florida law murdered my son".
I'm strongly believe in the The Second Amendment to the United States Constitution protects the right of the people to keep and bear arms. I authorize the tradition hunting on our property
Early Dead for Carlos was marked long before he fall for a little girl in Colombia
His wife of several years was not able to have children, exams happen to identify why. Apparently was him? No, Her?
Any way they divorced for other reasons. Later each one with different partners where able to procreate two kids.
​This little girl enchanted Carlos, was their destiny.... Love...... Much better future......! Carlos meet her mom at a Brothel...yes was God way to favor this precious girl and mother......New horizon and dead .....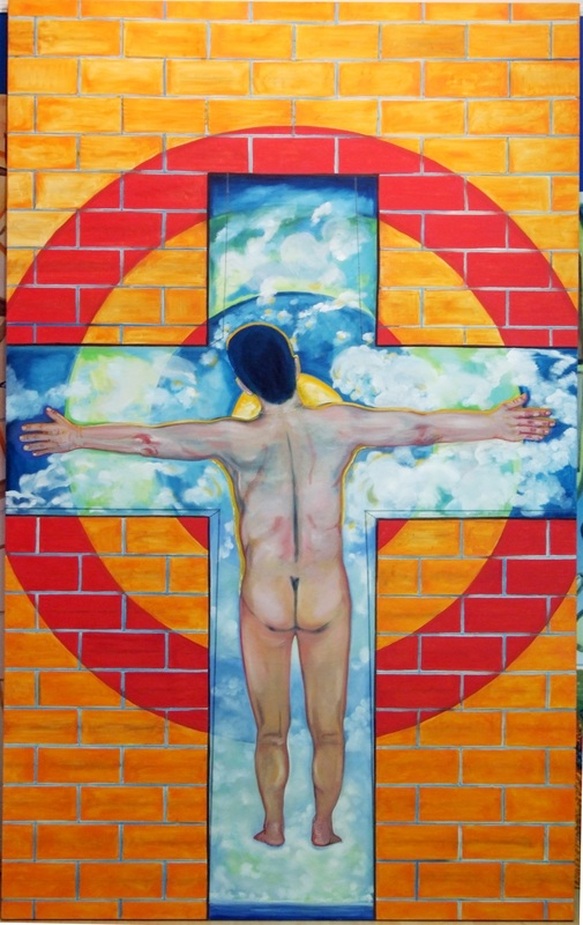 4-
Justifiable Homicide?
$37,475
Oil on canvas 60 x 96 #501
He is no more.
We miss him but he enters Eternity with love in his heart to reunite Poor all man who murder my son left a shadow in his course.
Recently grandkid comments on YouTube "they thought they were his friends that were "pranking" them. (his expression) Knocking on the window because they did that, the day before"
This is telling that the shoe prints on the window were not from Carlos (who was barefoot) but his friends the day before, and probably the same day and time of the killing; this was never mentioned in the police report. What a coincidence, his friends do that and then an stranger passed through the same path (my son) the next day, and did the same?



---
1- "Justice as a Human Creation" $15,000
Oil on canvas 65 x 55 #498
My dear son carrying the cross we all have in life.
Religion mystic interpretations and believes can be so dangerous if you let it take you from our reality.
Carlos Humberto was an asset to society; I have no answers from those who say was a purpose his death. I want to see it. Show me!!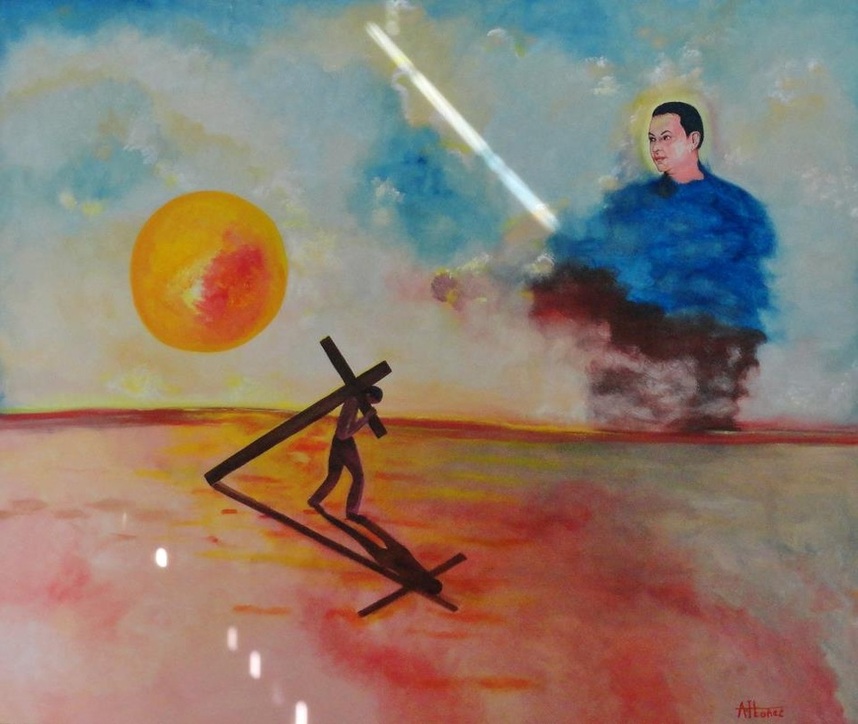 ---
When the Sun Fell by Denise A DeVries
By Denise DeVries
In the rare pre-dawn silence
of a coastal tourist town,
at the hour that always
means bad news,
a phone rings.
Into the empty street
once ringing with footsteps
and trotting hooves
and vendors' chants
muffled sobs drift.
Dawn will never come
for us in this town;
we'll drive away
past whispering waves
through moonlight .
The black sand flecked with gold,
the scent of coffee and bread
from the bakery next door
no longer exist for us;
only memories remain.
No more towels hang
from the balcony rail
after a morning swim,
no sandy footsteps mark
that we were here.
We won't wake our daughter
till just before the taxi comes;
we seem to think
as long as she sleeps
that her brother is still alive.

2- "When the sun fail so the church" $15,000
Oil on canvas 69 x 55 #499
Carlos was exhausted 7 years work on the graphic interpretation of the Bible trough his Corporation CODISERV International, Full and overtime schedule as an Engineer, just 2 months Married working on his wife and step daughter immigration documents, with his younger citizen girl planning so many goals but was exposed to much pressure near by.
To much…… God mercy!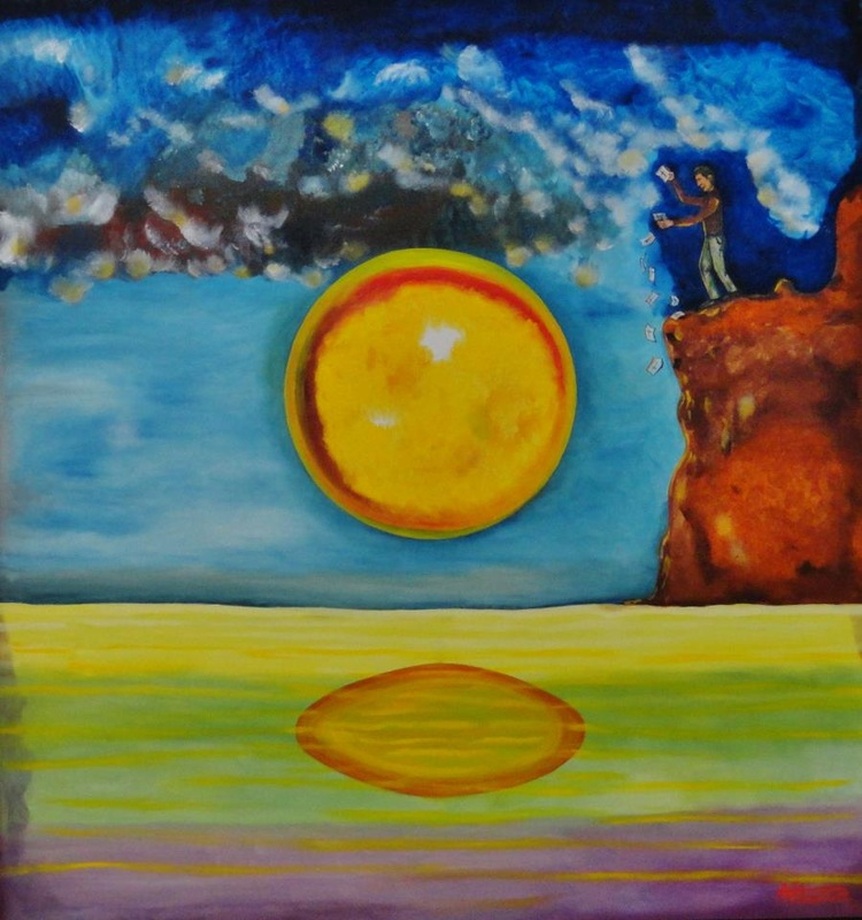 ---
3- The walk
"God love you, I want to talk to you about Jesus"
​$ 15,000
Oil on canvas 54 x 48 #500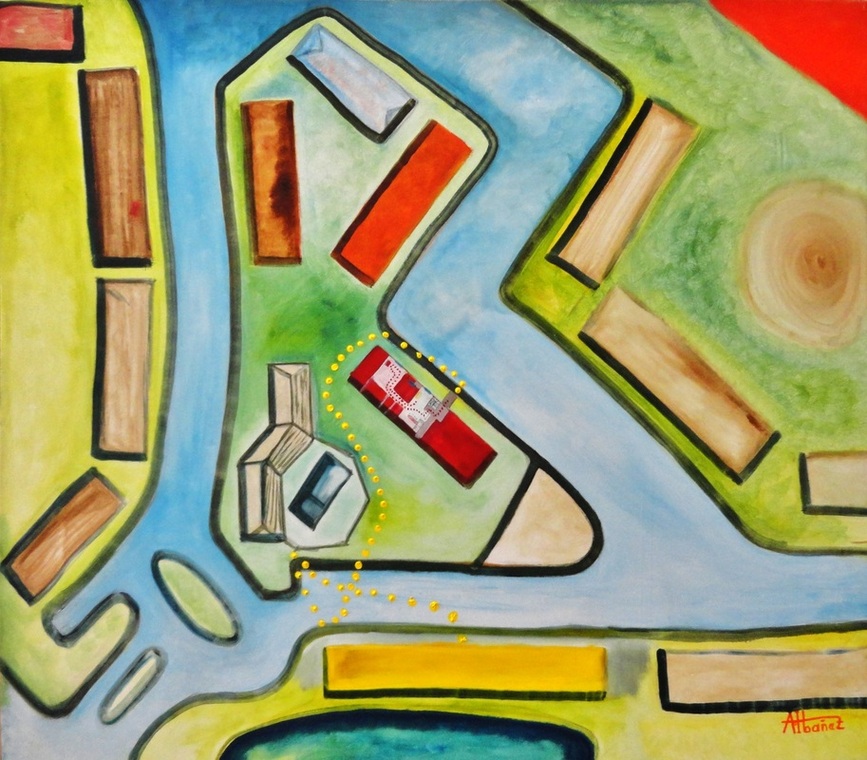 ---
This is an abstract view of the apartment in the condominium he temporarily rent near his Job as an Engineer in Tampa, the rectangular blocks represent the apartment buildings, the main office and the pool, the driveway, and sideway the yellow block was his home the dots represent Carlos footpath living his apartment and walking around the neighborhood talking to any one in his path about Jesus, embracing them, walk up to the middle of the street block where the assessing live, inside in his apartment the two sets of red dotes are his and his grandson path from the living room up to the bedroom, pick up his gun and walk to his front door, out to the hall and outside of his building and KILL my son. He was not scare, he call 911 after he kill Carlos. He was the only witness and he was never arrested, his testimony was enough to be call "Justifiable Homicide"
See poster.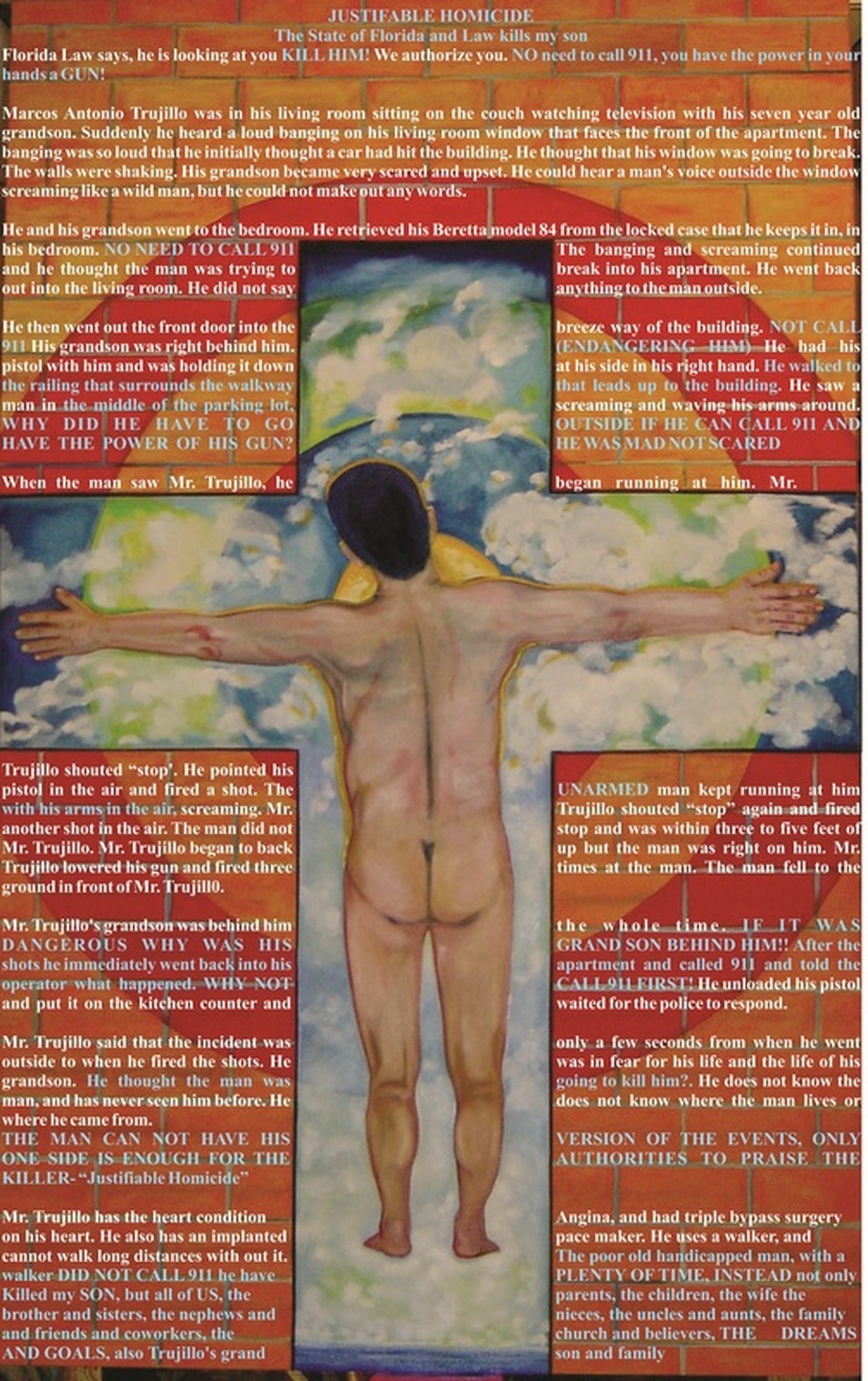 5 - "Sad and painful tears with life" $19,000
Oil on canvas 48 x 48 #502
He was happy with his family arriving to USA plan every thing, what a great
future ahead, yes very busy but he never learn that life was with in them,
on March 2-2010 Emily Saray Born.

Teardrops
By Denise
DeVries

Each
drop reflects
a face distorted
by loss, shadowed by
this sudden separation,
death echoing in all our ears.
The day he fell we all fell, wife,
mother, father, brother, sisters,
daughters, nephew and nieces,
coworkers and relatives, all
dropping with him, torn
beyond repair,

every heart broken with him.

But look again. Every teardrop
wears a rainbow seen in sunlight,
The salt of the earth, the water of life,
a drop carries a spark as small as a seed.

Hold out your candle.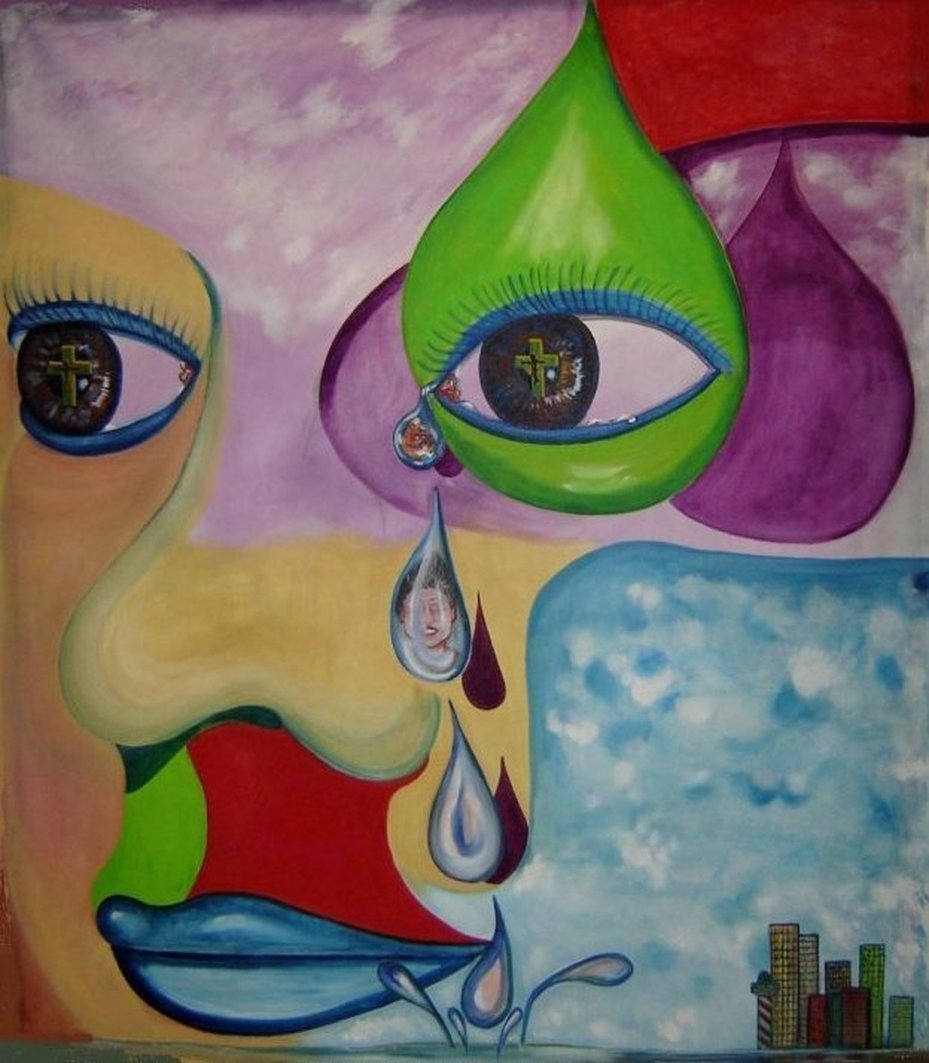 ---
6- "Paradise" $10,000
Diptych 120 x 48 2- 60 x 48 oil on canvas #503
Is an eye, a pupil like a window showing the earth, the universe from paradise a place similar to what we live with landscaping and beauty of creation, the promise land in heaven.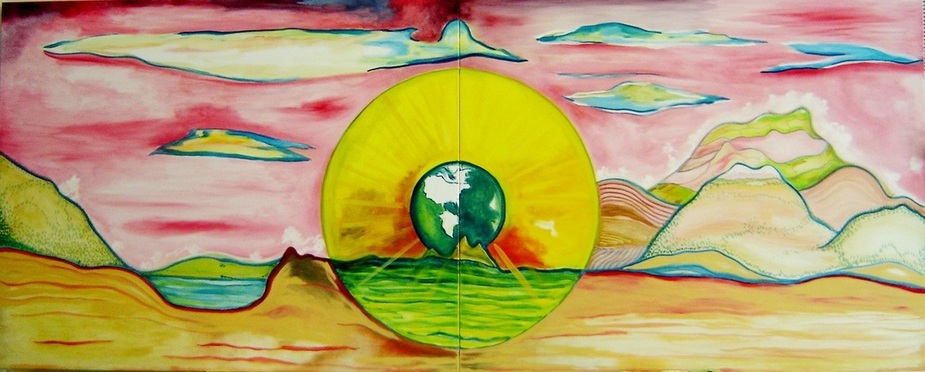 ---
7- "Can be this also? Paradise with flower" $10,000
oil on canvas 54 x 56 #504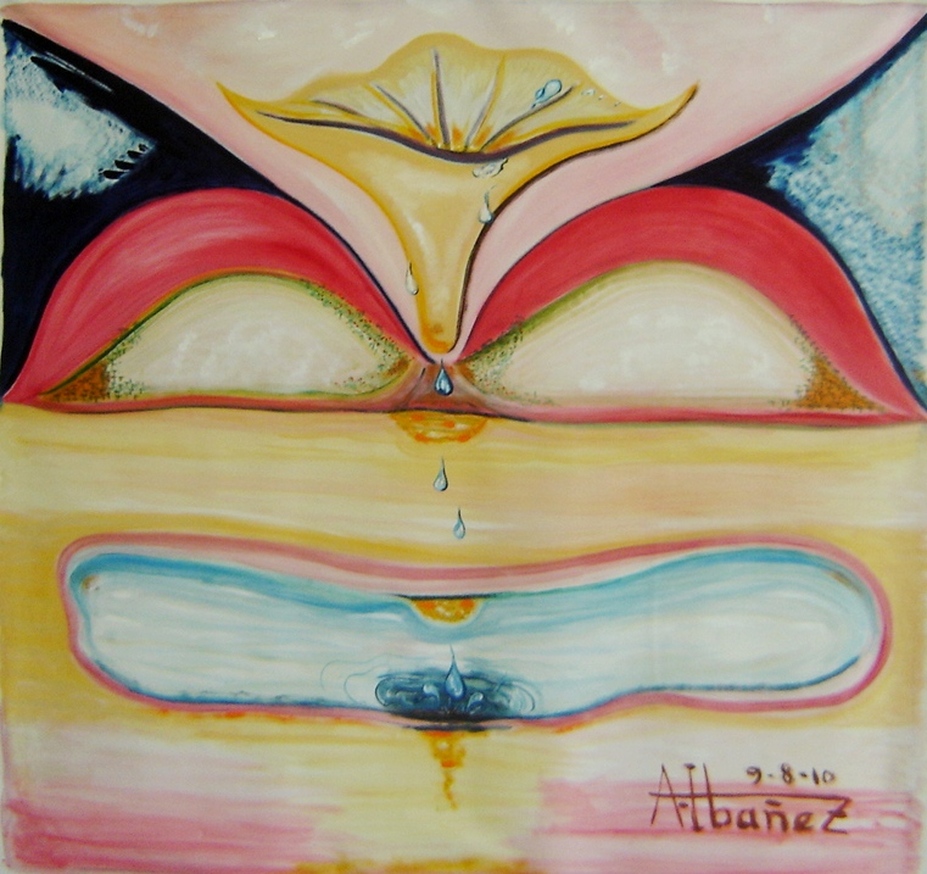 ---
8- "How about this..! Eternity" $10,000
oil on canvas 54 x 48 #505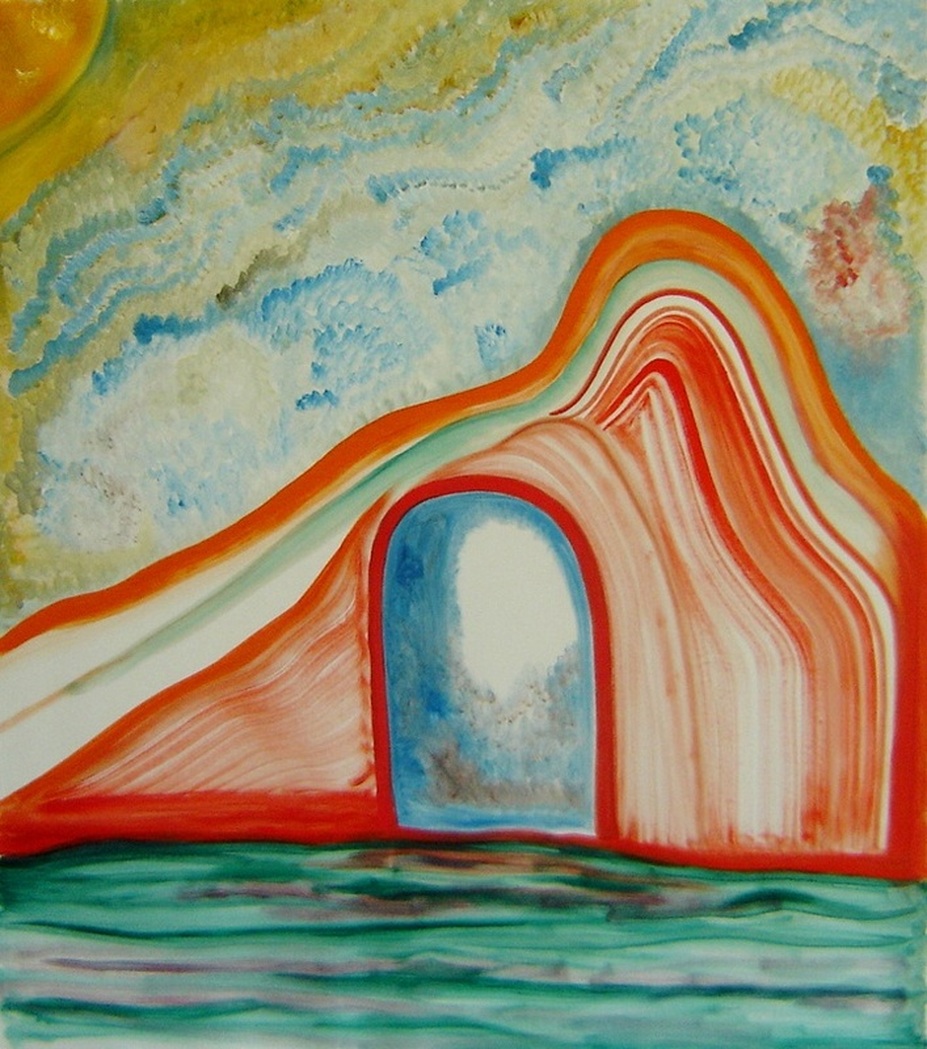 ---
9 - And this!? Unicorn Valley $26,800 Donated To Scripture Farm VA. "EDENHOF"
oil on canvas 66 x 84 #413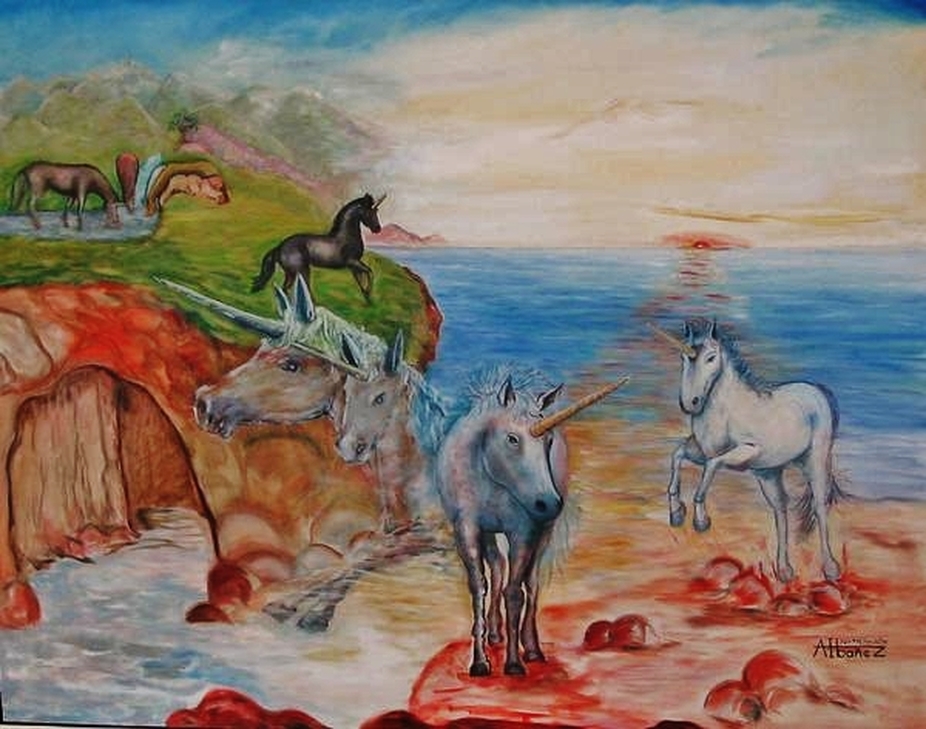 ---
10- "Will be better this? Food" $10,000
oil on canvas 54 x 48 #506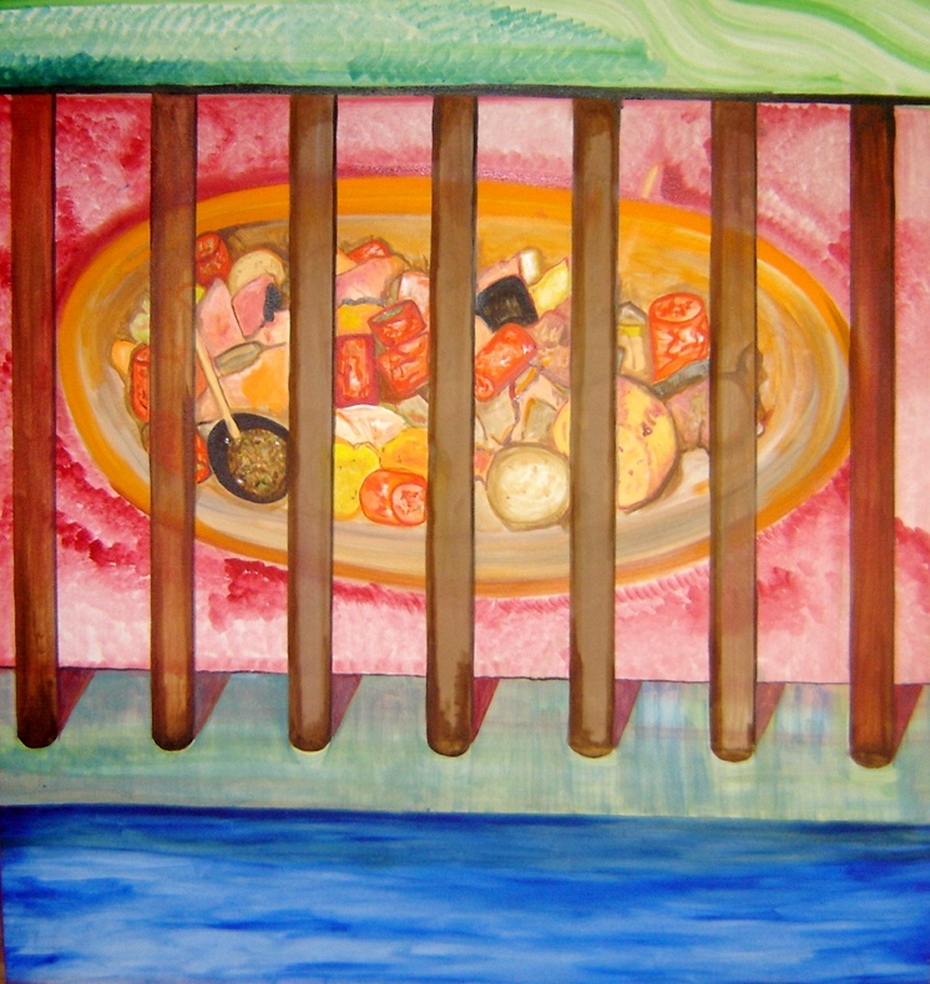 ---
11- "No way this….!Boyacá Routes" $10,000
oil on canvas 48 x 54 #507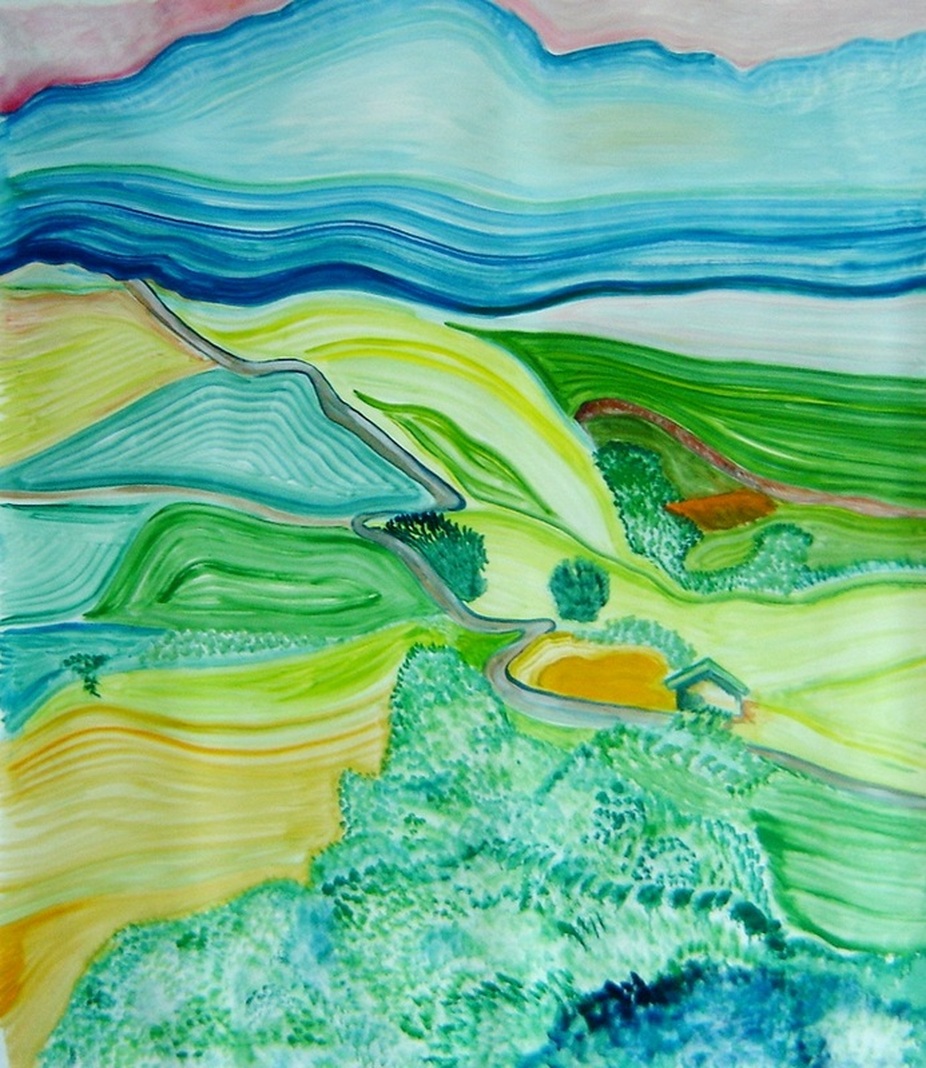 ---